By Daniella Espinoza. This past July, UC Berkeley hosted the annual UC Tech Conference. IT professionals from across the UC system came together to connect and share new ideas on collaborating and growing IT support services within the UC system. This year, 27 UC Berkeley students (myself included) had the valuable opportunity to participate in the conference.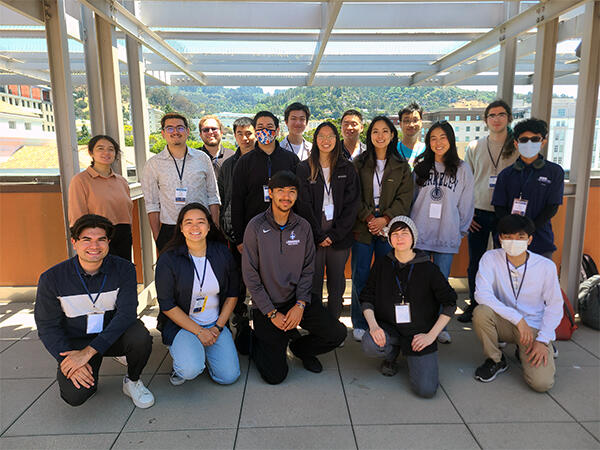 Before the conference, the One IT Student Leadership Program hosted an orientation and gave us advice on how to engage and prepare. After our pre-conference prep, we readily attended different sessions tailored to our various interests. Through all of these sessions, we not only got exposed to innovation within the technology sphere, but also saw how UC staff center their work around improving students' experiences with campus technology.
My favorite part of the conference was learning about how other UC campuses approach their work with students. During the 'Leveraging Student Workers to Improve Digital Accessibility' session, I learned how UCLA professionals turned to their student employees for ideas on increasing digital accessibility for students. Not only did they give students space to address campus-wide issues, but they encouraged actual implementation of students' ideas. For me, this was inspiring as it helped me realize that like UCLA, UC Berkeley also works to take cues from students and in turn, uses this knowledge to create programs and tools that will benefit students.
Irving Medina, a fellow student participant from IT Client Services, spoke about how he gained valuable skills in connecting with new people at the conference. He highlighted that by networking "with other people from different specializations and campuses, it opened my eyes to what's out there in tech, not just in advancements in the fields but also other ways to bring accessibility to technology."
Speaking on the variety of presentation topics offered, another student Erin Tam from bIT Communications and IT Client Services, spoke about her experience learning from a UCSF-led lecture called 'Can AI Beat Researcher Intelligence in Clinical Trial Recruitment?' Tam learned about how professionals at UCSF sought to increase accessibility in their clinical research through language and technology. "It was really cool to hear how [UCSF] talked about using large scale AI tech models – like Chat GPT – to simplify descriptions of their clinical trials in order to be readable by the general public." Tam also noted that she developed new ways of thinking about emerging technologies. "I never thought to use ChatGPT in that way so this was really insightful and inspiring to think about how I could use it in my future projects."
For many of us students, attending a professional conference was a brand new experience. Another student participant, Eric Lu from IT Client Services, shared that the highlight of his experience was getting to meet different people from other departments. "In my job, I don't get to get out often so I enjoyed getting to know other staff and students from UC Berkeley and learn about their roles and responsibilities." Tam added on, "I got to talk to the Chief Financial Officer at Berkeley and learned about his job and UC Tech experience. I never expected to meet someone in finance at UC Tech, as well as doctors. It was cool to see how diverse the people are."
The regular student check-ins also helped us ease into the professional atmosphere. During these check-ins, we got to reflect on our experiences and discuss what we took away from the sessions. "It was helpful to hear from other students and get their perspectives about the sessions," Lu, Medina, and Tam recounted. "Since we couldn't go to all the sessions, we got to find out what we missed."
Tam shared that the overall consensus from students about the conference experience was that "[it] was a great introductory course to professional conferences. This program should definitely be continued and expanded to bring in students from other universities to participate."This year, the UC Tech student experience served as a pilot to facilitate professional development for student employees within One IT. Including students in professional events such as the UC Tech Conference is just the beginning for the One IT Student Leadership Program, which seeks to enhance the student employee experience at UC Berkeley. From the student perspective, we would love to get more opportunities like this to learn and grow as professionals.
Learn more about the One IT Student Leadership Program and the UC Tech Student Experience in the second quarter report(link is external).
[Cover photo caption: Berkeley students who participated in the One IT Experience.]
Author